Quinton Barham, 13, returns home after cardiac arrest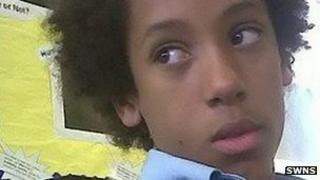 A 13-year-old footballer who collapsed during a game has returned home to Wiltshire after a month in hospital.
Quinton Barham suffered a cardiac arrest while playing for Bradford Town YFC and was given CPR by a spectator.
Four weeks after being rushed to Bristol children's hospital, where he underwent major heart surgery, Quinton is back home in Trowbridge.
His father, Paul, is now planning to raise £1m to provide defibrillators to football clubs across the country.
Mr Barham described the life-saving circumstances as an "absolute miracle".
Fame wish
He said, not only were there parents on hand to help with CPR, but the club where they were playing had a defibrillator and they were able to get Quinton stable and to hospital for emergency heart surgery.
"He always said that he wanted to become a famous footballer," added Mr Barham.
"I think you've got to be careful what you wish for sometimes, because he has got that fame but not in the way that we wished.
"Unfortunately, I think with his football career, he has to take a step back now."
The 13-year-old was playing against Bromham when he came off the pitch complaining of dizziness and chest pains.
Since the incident, Bradford Town YFC has bought two defibrillators - one for home matches and one to take when the club travels to away matches.
Mr Barham is now planning to raise £1m, through different charities and donations, to buy 1,000 defibrillators for football clubs across the country.
"It won't happen overnight," he said.
"We will continue with the fundraising and, as and when funds come through to buy one or two, we shall buy those, distribute them where needed, and continue to do that as the money comes in."