Anger over 'poor' Vodafone mobile network in Marlborough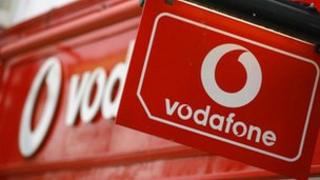 Anger has been expressed over continuing problems with the Vodafone mobile phone network in Marlborough.
The problems include no signal, people only being able to make calls during off-peak hours and voicemail failing to save and record messages properly.
Phone user Caroline Aldridge said: "You don't get your answer phone messages, if you do, it's sometimes a week later - what good is that?"
Vodafone said it was aware of issues with capacity on the local network.
Mike Hall from C M Loney Electrical Services said: "It started in November and it does not function as a phone. I lose jobs because people leave a voicemail but if they've got no electric they're not going to hang around waiting for a reply.
"By the time I get the voicemail and ring them back, they've found someone else - that's potentially a customer I would have kept."
A spokesman for the company said the local mast in Marlborough was taking calls but too many people were using it, so at peak times this resulted in no service.
New equipment is set to be installed over the weekend which should increase capacity and improve the service, Vodafone added.