Traders criticise timing of Salisbury's Market Place revamp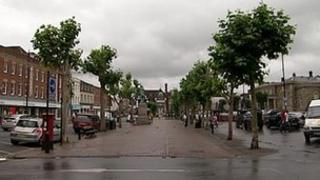 A 22-week long revamp of Salisbury's Market Place has prompted criticism from local traders.
Wiltshire Council has said the scheme will help make the city a more attractive location for visitors, traders and shoppers.
The plans include re-paving the area with granite and Yorkstone, as well as adding new seating and lighting.
However, some traders fear the timing of the project during the summer months could see them lose business.
Steve Dauwalder, who runs the restaurant La Mollina, said: "We've got very good experience on being on a building site - we're adjacent to a very major fire that took place in Spring 2011 - we've had two summers of disruption and it's cost my business tens of thousands of pounds."
'Over consulted on'
Richard Clewer, chairman of Salisbury Area Board, said there was "no good time to conduct redevelopment work".
"The problem comes down to the fact you can't please everyone," he said.
"The most common comment I get is that this has been over consulted on - and what we've done is follow the majority view in almost all cases."
As part of the revamp, Market Square will become completely pedestrianised to create "a large, car-free, open space which can be used for events to draw people to the city," a council spokesman said.