Wiltshire Eco Park community group wins bid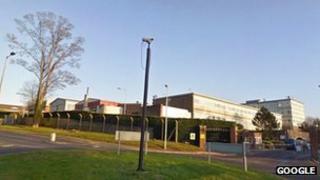 A community group set up to spearhead regeneration plans for a former army HQ in Wiltshire is celebrating success.
The Wilton Community Land Trust has been named as the preferred bidder for its plans to turn the former Erskine Barracks in Wilton into an "eco park".
About 450 homes and businesses will be built on the site with the group aiming to create "a centre of excellence for sustainable living and working".
Developers Redrow and Our Enterprise teamed up with the trust for the bid.
'Proactive communities'
Salisbury MP John Glen described the effort as possibly the best thing that had happened in his time as an MP.
He said: "It has been fantastic - 18 months ago a few residents of Wilton came to me and said, why can't we have a stake in the future of the land? and I said, there's no reason why you shouldn't, and we started a process, led by them and we have got to the point now where their bid has been successful."
He said the community land trust had been formed to allow local people to come together and have a say in the development of the land.
Trust member Suzanne Butters said: "We believe that this is the way that development can work in this country, rather than inappropriate development being foisted on communities.
"If communities are proactive and work with developers you can achieve much better outcomes for everybody.
"We are extremely pleased that two years of hard work has meant that we have got to this point, which is a great victory for Wilton and all our supporters."
Previously the trust said plans for the site included homes, a visitor centre, business units and allotments.
It also wants the site to be carbon neutral and powered by a range of solar, thermal and recycling generators.
It is not known how much the group's bid was worth but it was up against other housing developers in the bidding process.
Contracts now need to be signed and planning permission achieved before any work can begin.
The site was formerly home of the British Army Land Forces HQ before it relocated to Andover, Hampshire, in 2010.