Council-owned Wiltshire mansion sells for more than £2.7m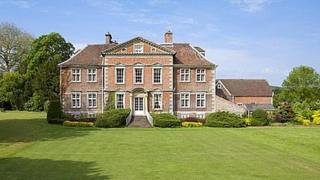 A former country house and adult education centre has been sold for "in excess" of £2.7m by Wiltshire Council.
Urchfont Manor College was closed in September as part of the council's £33m cuts which followed a reduction in government funding.
The college, set up in 1946, hosted a range of residential courses.
A council spokesman said the new owner had agreed to "ongoing community use" of the estate's Oakfrith Wood, cricket ground and recreation field.
Dating back to 1487, Urchfont Manor House was owned by a succession of families before it was bought by Wiltshire Council in 1946 and turned into a residential education centre.
One of the first of its kind to be opened by a local authority in the country it offered residential courses, day courses and conference facilities until its closure last September.
In November, the Grade II* listed manor house was put on the market, along with three cottages, a former coach house, stables and 59 acres (23.9 hectares) of land.
At the end of March it was sold for in excess of its initial guide price of £2.7m.
Emma Cleugh, of estate agent Knight Frank, which marketed the property, said the whole property was sold to the highest bidder from a shortlist of bidders.
'Most beautiful'
"Bids were invited for the house in a way that ensured the local community had the ongoing long-term security they needed to continue to use and enjoy their areas," she said.
"But it is the most beautiful property this department has ever dealt with and I don't think the council's requirements affected the price or was a deterrent to buyers."
A council spokesman said it was understood the new owners "intend to apply for the necessary permissions to convert the main house back to a private home".
Council leader Jane Scott said: "I am very pleased that Urchfont Manor will have new owners who will be able to enjoy and take care of this beautiful building.
"We have listened to local people and ensured that this sale will mean the community will still be able to enjoy Oakfrith Wood, the cricket ground and play area in the recreation field."