Attacked girlfriend says boyfriend should be in jail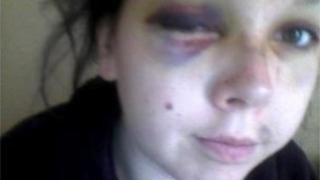 A young woman who was attacked by her boyfriend who left her with facial injuries said she feels "let down" that he was not given a jail sentence.
Loretta Butterworth, 22, was repeatedly punched and kicked by Toby Hayden after he was unable to get any money from a cash machine.
Hayden, 27, from Christian Malford, admitted assault and was sentenced to unpaid work by Chippenham magistrates.
Miss Butterworth, from Corsham, says she now wants to appeal the sentencing.
Hayden was serving a suspended jail sentence at the time of the attack, but the magistrates said it would have been "unjust" to action it.
"I've had to go through a month of hell," Miss Butterworth said.
"I've had to look in the mirror and see the damage that he has done, and it's not just physical, it's emotionally and mentally.
"I want him to feel isolated, I want him to have his privileges taken away from him. He is still allowed to go out and enjoy everyday life and he doesn't deserve it at all. He needs to be put away."
'Stamped on my face'
The couple had been to the pub in Chippenham, Wiltshire, prior to the attack on 9 February.
"Toby then went to the cash point to draw out some money, he pushed the £10 button and it said insufficient funds," Miss Butterworth said.
"He then pinned me against a three foot wall and punched me repeatedly in the head as hard as he could, without a second for me to defend myself," she said.
"When I woke up I was on the floor, I couldn't see, my eye was so swollen.
"I was in a serious amount of pain and I had received kicks to the back of the head and he then stamped on my face."
The court heard Hayden left his girlfriend lying on the floor and went to his parents' house where he was arrested after also assaulting two police officers.
Facing magistrates Hayden, who has medical and psychological problems, admitted three counts of assault.
He was told to complete 200 hours of unpaid work, given a supervision order for 18 months and told to pay compensation to his victims.
Miss Butterworth said: "Due to the seriousness of the injuries he caused me and the other officers, and the previous offence, I really do think he should have been sent to prison. I feel very let down."