Salisbury Cathedral appoints fundraising expert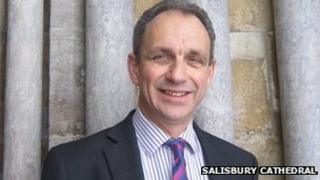 An expert fundraiser has been appointed by Salisbury Cathedral to run its appeals and outreach work.
The Reverend Martin Field was ordained in 1982 and has worked at director level for several charities including Barnado's and the British Liver Trust.
Mr Field said his aim was to increase revenues and support the chapter, which is similar to a board of trustees, with their outreach projects.
His first goal is to raise £9m over the next five years for renovation work.
He said: "Thirty years ago, there was the famous SOS appeal - Save our Spire - and that's when the major repair programme first started and we've got about five or six years to run on that with about eight or nine million yet to find."
The major repair programme has so far cost £24m.
The role has been combined for the first time and is part of a wider management restructuring of the cathedral staff which began in 2008.
Some of the future outreach projects include celebrations for the 800th anniversary of when the Magna Carta was signed.
The finest surviving copy of the document is held at the cathedral and events are planned to tie in with the anniversary.