Dauntsey residents' upset over housing estate 'mess'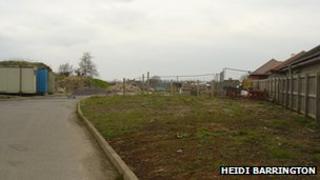 Residents of a rural housing estate are unhappy with developers for leaving the area like a "building site".
Nineteen homes in Dauntsey were built but play areas and paths were left unfinished despite planning conditions stating they should be completed.
Resident Heidi Barrington said: "There's not any top surface on the roads or paths and nowhere to play where the kids are safe."
Developers Flower and Hayes have said they do not want to comment.
"We've had a couple of children falling and cutting themselves on the stones, there's no pathway leading to the school at all - we have to go on the road," added Mrs Barrington.
Wiltshire Council has said the issues date back 10 years to when planning consent was granted. It has now stepped in to try to resolve the issue.
Cabinet member Toby Sturgis said: "The legal documents have gone to Flower and Hayes and I expect them to sign them and deliver what they should do.
"One of our biggest problems was when people started moving in on this site, Flower and Hayes started collecting money for the houses.
"Normally the bit of pressure we have is they're unable to sell the houses they have but in this case people bought the houses and we've got to negotiate from a position of slight weakness."