Titanic violin on display at Belfast City Hall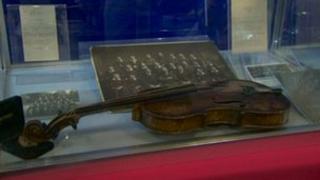 A violin which was played onboard the Titanic as it sank is on display at Belfast City Hall.
The instrument belonged to the ship's band leader Wallace Hartley and it was found in an attic in Yorkshire seven years ago.
The violin, which is part of a special exhibition of Titanic memorabilia, will be auctioned at the end of the year.
The artefact will be in Belfast for just a few more days.
Wallace Hartley and his orchestra famously played on as the ship sank in 1912 and were among the 1,500 who died.
In 2006, Titanic specialist auction house Henry Aldridge and Son in Wiltshire were approached by the violin's owner who wanted to sell it.
Experts commissioned by the auction house confirmed it was Mr Hartley's.