Wiltshire dairy farmer builds facility to educate others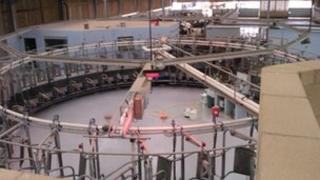 A farmer in Wiltshire is hoping to inspire bank managers and land agents with a new view of his milking parlour.
Gavin Davies has overseen a project to build a viewing gallery and classroom at Pennings Farm, near Pewsey, in a bid to improve the image of agriculture.
The plan is to host groups of financial decision-makers to help increase their knowledge and understanding of farming.
An anaerobic digester has also been built on the farm as an alternative way of generating income from waste.
'Depth of knowledge'
Mr Davies said he had already hosted a group of 20 people from his bank, who had been "very supportive".
He said: "They were all involved in farm lending, and I think it was really useful for them to see at first hand how anaerobic digester income can make investment in the farming side of the business viable - and vice versa.
"Some bankers and land agents don't have the depth of knowledge they need to make decisions that could be the difference between a farm guaranteeing its viability and it going to the wall."
He added that groups of schoolchildren would also be invited to the farm to watch farm life and learn more about where their food comes from.