Forest of Dean distribution centre job cuts 'disgusting'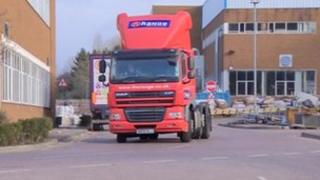 Workers at a Forest of Dean distribution centre have expressed their disgust at the loss of 300 jobs there.
Home and Garden specialists The Range are moving from Mitcheldean to a centre run by DHL near Doncaster.
The firm - which will shut its warehouse in September - said the closure was needed to "seek greater efficiencies".
Workers are writing to the government seeking help.
'Going to hurt'
Their representative Mike Grindle said: "People have already started to leave. There is just a feeling of disgust. People are thinking 'what am I going to do now?'.
"I'm 62 years of age - what's the chance of me getting another job and there are several others in the same position, from all walks of life and they are all lovely people."
The workers said they want David Cameron "to sit up and listen to put work back in the Forest".
"We are challenging the government to help us," Mr Grindle said.
"We know we're not the only ones, but we are prepared to work and George Osborne was quoted this week saying that 'we want to give you people work and if you're prepared to work, to work hard, then we will help you', and yet this is our reward.
"There are good workers here, and we want the government to help support these rural areas."
Mitcheldean and Drybrook councillor Ian Whitburn said The Range was the biggest employer in the area and the impact of the job losses would be "devastating locally".
"The local economy suffers every time we lose any kind of businesses, but to lose a business of that size is really going to hurt the local economy," he said.
"Pretty much all of the workers lived in the Mitcheldean area, so it is a very, very local workforce and bound to affect the money circulating locally."
'Maximum support'
Employees have contacted local MP Mark Harper to ask for his help.
The Conservative MP said: "It is obviously disappointing for the Forest of Dean that The Range has decided to relocate part of its operations to Doncaster.
"My office has been in touch with both The Range and DHL to understand the basis for its business decision, and to ensure that the maximum possible support is provided to potentially affected employees."
Staff have entered into consultation and some could be offered relocation to other DHL or The Range operations by the Plymouth-based company.
A spokesman for DHL supply chain said: "Outplacement support will be provided for staff unable to relocate or seeking vacancies outside both organisations.
"Both The Range and DHL thank the team at Mitcheldean for their understanding at this difficult time and stress that this decision in no way reflects on the quality of work at the site."