Wiltshire Go Ballooning firm folds with 30 jobs lost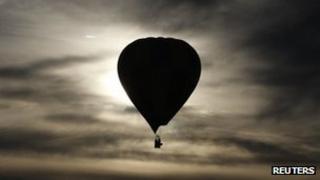 A Wiltshire-based hot air balloon company has gone bust with the loss of 30 jobs, administrators said.
Cameron Flights (Southern) Ltd, also known as Go Ballooning, said in a statement online that after 25 years of business it had ceased trading.
The Pewsey-based company has made 30 redundancies and is believed to have taken up to £1m in prepayments.
A spokesman for administrator EWS LLP said he did not believe customers would get all their money back.
Gary Crawford, from Bristol, whose £210 flights with his girlfriend across the city should have taken place earlier, said: "This will be the sixth time we have had our flight cancelled.
"The first five times were due to 'weather conditions' and today the company has gone into administration. There is no sign of getting any money back."
The British Association of Balloon Operators (BABO) - a UK trade body for commercial hot air balloon operators - said it had received an "unacceptably high" number of complaints about Go Ballooning.
Cameron Flights (Southern) Ltd was not a member of BABO but the association said its committee had been of the opinion "for some considerable time" that the company's business model was "seriously flawed".
The statement on the Go Ballooning website said the company was "deeply saddened" by its decision "after successfully trading for over 25 years and flying many tens of thousands of customers".
It added that its website would be updated on 9 April with more information.
Rachael Elley spent £960 on a 60th birthday flight for eight people and said each booking had previously been cancelled "due to bad weather".
"On one of the 'bad weather' days it was lovely sunshine and we went out on a steam train for the day," she said.
Maria Summerhayes and her children from Bristol spent £250 on a flight for her husband's 50th birthday present.
She said: "I am really disappointed as I saved for this for my husband's birthday and both our children had also contributed to this present for him."