Union Square development renamed Kimmerfields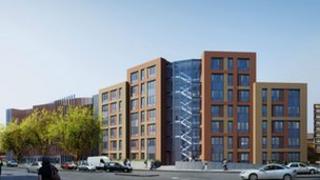 A new name has been given to a £330m development in Swindon town centre.
The Union Square development, located around the site of the former central police station, has been renamed Kimmerfields, after Kimmeridge clay which the area is built upon.
When completed, the scheme will include residential apartments, a multi-storey car park, a bus station, medical centre, shops and restaurants.
Developers Muse said it wanted to "freshen up" the name.
Project manager Doug Findlay said: "The previous names that we had were inherited, and the revisions to the masterplan reflected a slightly different scheme.
"That taken with the fact that there are a number of competing Union Square's up and down the land, we opted to look for an alternative, and we came up with Kimmerfields."
Work began on the first phase of the development in March 2012.