Forward Swindon's pledge to meet investment challenge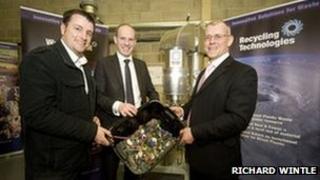 A council-funded body working to bring new businesses to Swindon says there are signs of economic growth despite the recession.
In 2010 the borough council pledged a five-year plan to fund inward investment agency Forward Swindon.
Since then, two firms had moved to the area and there are "about 30 in the pipeline", said the firm's Phil Young.
Their aim was to influence firms "where they're starting up and where they're expanding", he said.
Despite the "national picture" there were signs of growth, added investments director Mr Young.
He said the company had just launched a campaign to promote Swindon as a business base which was proving successful.
"It is beginning to bear fruit in terms of the enquiries we are getting, but the key is getting those enquiries into decisions to come and invest here," he said.
"We have about 30 in the pipeline who are interested. A number of those won't come here - either their business will decide to go to another location, which does unfortunately happen for Swindon, or they may decide now's not the right time to make the move that they want."
'Take time'
Swindon Chamber of Commerce said the group was "working hard" for Swindon.
Rosemary Wells, from the chamber, said: "They have a pipeline of interest and the other positive is that the regeneration of Swindon is moving forward and there are projects happening to improve the offer for Swindon.
"Some of these things take time to get a return on investment."
Over the past 12 months, about 1,500 jobs have been lost from Swindon-based firms, such as Honda, South Marston Distribution, JP Morgan as well as Swindon Borough Council.
Recycling Technologies, which aims to create electricity from plastic, has recently moved into the town.
The firm got support from Forward Swindon with marketing and site location support.