NHS moisturiser to be sold by Salisbury Hospital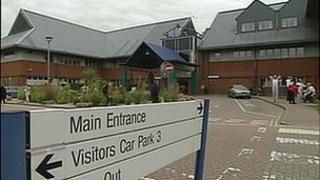 A hospital has launched its own moisturiser which it will sell to raise funds for patient care.
Salisbury District Hospital has been used the formula for 20 years to help patients recovering from skin grafts and burns.
The hospital is now planning to sell its sunflower oil-based cream commercially, with all profits being reinvested back into patient care.
A hospital spokeswoman said: "We just thought the time was right".
The cream, which has been in use at the hospital since 1989, is to be sold as My Trusty Little Sunflower Cream.
'No clinical claims'
Malcolm Cassells, finance director for the Salisbury NHS Foundation Trust, said the trust had already invested "several tens of thousands of pounds" in the product.
"We've invested in PR and marketing advisers to take us through the process and obviously we've invested in the manufacturing of quite a large number of tubes ready for the launch," he said.
"But I would be disappointed if we hadn't recuperated our costs within the next couple of months."
Sold under an NHS Salisbury logo, "well over half" of the profits will go directly back to patient care, Mr Cassells said.
"We don't claim clinical properties for this cream, we claim it only as a moisturiser but we know this product is really good."