Family of Amesbury fatal stab victim want justice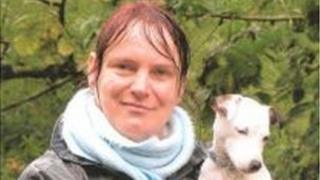 The family of a woman stabbed to death said they "fervently hope justice will be served".
Debbie Simister, 45, was found at her home in Amesbury, Wiltshire, on Monday with stab wounds to her neck and died later in hospital.
Her husband James Simister, 49, of Maple Way, Amesbury, has appeared in court charged with her murder.
Paying tribute to the grandmother, her family said she "absolutely doted" on them.
"Debz was an extremely loving daughter, mother and grandmother," Mrs Simister's mother, father and four children said.
'Very precious'
"For Debz to have her life snatched away so young leaves a big hole in all our lives.
"She will be sorely missed by all her family and friends and we fervently hope justice will be served."
Mrs Simister's 19-year-old daughter, Amy Howell, added: "She's really very precious and she means the world to me, for no one can compare with her in any way."
Mrs Simister was airlifted to Southampton General Hospital at about 22:15 BST on 8 April.
Mr Simister has been remanded in custody to appear before Winchester Crown Court on 30 April.