Bishops on bikes complete 172-mile Wiltshire challenge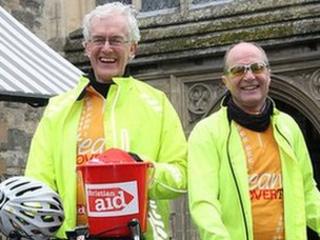 Two Wiltshire bishops have completed a 172-mile (276 km) bicycle ride over two days for Christian Aid.
The Bishop of Ramsbury, Dr Edward Condry, and the Bishop of Swindon, Dr Lee Rayfield, were raising awareness of "the plight of the world's hungry".
Their route went through 16 locations where they thanked Christian Aid volunteers for their efforts.
"This was a journey in solidarity with the poor around the world," said Dr Rayfield.
The challenge target of £500 has been exceeded with more than £600 raised so far.