Lacock Abbey displays 14th Century bible 'dictionary'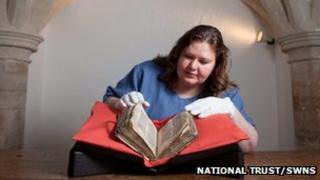 A rare 14th Century Latin 'dictionary' for the bible has gone on public display in Wiltshire.
The manuscript helped nuns decipher parts of the bible and is being exhibited at Lacock Abbey.
It is one of the few books written by monks to have survived the dissolution of the monasteries under Henry VIII in the 1530s.
The book - Expositiones Vocabulorum Biblie - by William Brito, was part of the abbey library.
'Simply priceless'
It was bought at auction by the National Trust, which owns Lacock Abbey.
The book is written on parchment and contains the explanations and origins of words.
It also includes 13th Century financial accounts of the abbey pasted into the binding.
"We know little about the everyday lives of the nuns at Lacock Abbey that this one book gives us a remarkable rare glimpse, a short glance into how they might have lived their lives," said Sonia Jones, house and collections manager.
"It is a special and important book, but to have it in Lacock and to be able to put it on display in the abbey, in its original home is simply priceless."
Mark Purcell, the National Trust's libraries curator, said the book, which bears the signs of having been chained when it was in the abbey library, was a very rare survivor of its time.
"Being hand-written would have made it rare and valuable even when it was new, so it is not a surprise to find it shows signs of marks from the copper clasps which held its chains when it was in the nun's library," he said.
The book was passed down through generations of the Talbot family who lived at the abbey.