Local elections: Wiltshire Tories hope to keep control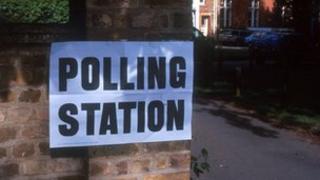 It is one of the country's biggest councils, spending £350m on services for nearly half a million residents.
Yet six of Wiltshire's 98 seats will not be contested - only the Conservatives have put forward candidates.
Voters in places such as Fovant and Tidworth may only be choosing parish councillors on 2 May.
It gives a clear indication of the strength of the Tories, who for decades have dominated the county's politics.
Drastic cuts
Wiltshire Council is only four years old. The unitary authority replaced a county council and four district councils in 2009.
Leader Jane Scott has overseen this transformation, and credits it with bringing savings and efficiencies which have protected the council from any drastic cuts.
That does not stop sniping from the Liberal Democrats, who are her main challengers.
But they must contend with criticism of their own role in the coalition government. That may be why they are putting up fewer candidates in Wiltshire than they did four years ago.
It should provide a prime opportunity for Labour, but the party starts from a very low ebb - last time they won just two of the 98 seats on the council.
And not one Labour candidate took second place - so working out where their gains may come is not easy.
Lose overall control
Looking to leapfrog others to take seats is the UK Independence Party, who have a strong presence in the county.
They are fielding almost as many seats as the Lib Dems and Labour, and even boast a serving councillor following a defection from the Conservatives.
The Greens are weak in Wiltshire, with just a handful of candidates standing, but there is a strong tradition of independents including several serving councillors.
And one independent group which expects to win most of their contests are the Devizes Guardians - they won three of the town's four seats last time.
Overall, no one expects any other party apart from the Tories to seize power in Wiltshire on 2 May.
But a very bad day for the Conservatives could, just could, see them lose overall control.