Baby death support unit opens in Salisbury hospital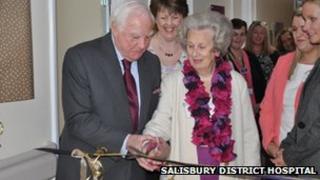 A new unit has opened for parents in Wiltshire who have had stillborn babies or lost their baby soon after birth.
Salisbury District Hospital's new Benson Suite has been created to enable parents to grieve in private away from the main maternity unit.
Bereaved parent, Georgia Shappels, said: "It's created a place for you to be with your siblings and your family to feel comfortable."
The unit was paid for through the Stars Appeal fundraising campaign.
The suite was named after Sir Christopher and Lady Benson who made a "substantial donation" towards the appeal.
"This unit will make that short amount of time very special, especially with the cold cots [that] enable you to spend more time with your baby," said Mrs Shappels.
Cold cots lower the temperature and keep it constant so the baby's body does not need to be sent to the mortuary straight away.
'Unimaginably difficult'
The self-contained suite also contains a delivery room, a double bedroom, living room, kitchen and extra space where they can meet the hospital chaplain or nursing staff.
Dave Cates from the Stars Appeal said: "Previously parents were treated on the labour ward, but what we wanted to do was provide some dedicated facilities for these families where they could spend time privately, where they could spend as much time as they needed to with their baby [and] where they could begin to grieve.
"We know that won't make things better but we do know from liaising with lots of parents who've been through this experience that it will make things just slightly easier at what is an unimaginably difficult time."
According to Stillbirth and Neonatal Death charity, Sands, more than 4,000 babies are stillborn - born dead after 24 completed weeks of pregnancy or more - in the UK annually.