Prison Bridge repairs after fatal crash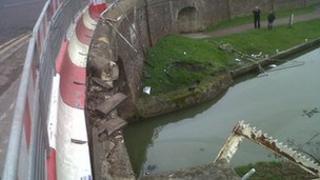 Work is under way to repair a Grade II-listed bridge in Devizes after a man died when his car crashed through the parapet and ended up in the river.
Stuart Hughes, 26, from south Wales, was in the car with two friends who managed to escape unhurt when the crash happened on 15 March 2012, police said.
The Canal and River Trust said work had taken a year to begin as specialists were needed to assess the damage.
The repairs to Prison Bridge are scheduled to take 10 weeks.
Temporary traffic lights will be operating on Bath Road while the repairs are made.
"It's not straightforward to repair a 200-year-old bridge," said Richard Leigh, from the Canal and River Trust.
"Care needs to be taken to ensure the replacement steel parapet matches the original design and because of the heritage status of the bridge it takes a little longer to work through the details with our insurers."
Remaining sections of parapet on both sides of the bridge will also be replaced.