Soldiers from The Rifles parade in Wiltshire town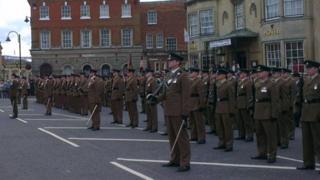 Hundreds of people have watched soldiers from the Gloucestershire-based Rifles parade through Devizes.
Veterans from Gloucestershire, Berkshire and Wiltshire also joined the 120 Riflemen from C Company 1st Battalion.
Maj Bill Eden said: "What we find is that the public is very supportive and that means a huge amount to us because what we do, we do in their name."
The event coincides with the annual veterans' reunion event.
The veterans who took part are from the Rifles and Royal Gloucestershire, Berkshire and Wiltshire Regimental Association (RGBW) Old Comrades who held their standards in honour of the serving soldiers.
The RGBW is a forerunner to the Rifles and held its annual reunion event afterwards.
The 1st Battalion is one of six in the Rifles and last served in Afghanistan in autumn 2011.
Its sister battalion, 4 Rifles, is currently on deployment in Helmand province.
The Freedom of Devizes was conferred on the Wiltshire Regiment in 1949 to mark its long association with the town.
Soldiers stepped off from Market Square and later took part in a church service at St John's Church.