River Kennet pollution: Pesticide blamed for river fly death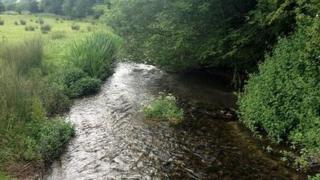 A pesticide which leaked into the River Kennet in Wiltshire is thought to be responsible for the death of a large number of river flies.
The Environment Agency (EA) was alerted to the problem on Monday by volunteer river fly monitors from Action for the River Kennet (ARK).
An EA spokesman said the pesticide affected a number of macro invertebrates but not the river's fish.
Some eight-miles (13km) of the Kennet near Marlborough was affected.
'Industrial-sized user'
The EA spokesman added samples of soil and water were analysed from the affected area which stretched to the Berkshire border.
"We're confident no more pollutant is going into the river via the Marlborough sewage works," he said.
"Given the quantity, the pesticide is more likely to have come from an industrial-sized user rather than a gardener and passed through the works untreated.
"The pesticide is dispersing and we are continuing to monitor its levels," he added.
Anyone with information about the pollutant is asked to contact the Environment Agency.
An ARK spokesman said all the freshwater shrimp, mayfly and caddis fly in the river appeared to have been wiped out.
"At this time of year each square meter of river contains thousands of freshwater shrimp along with mayflies and other river invertebrates on which the rivers' ecology depends.
"With all of these dead, the base of the food chain has been wiped out, which will leave birds and fish with nothing to eat," he added.