Ex police chief critical over Salisbury police station closure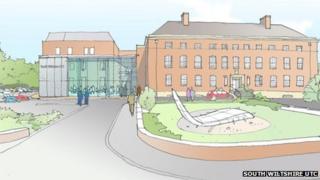 A former senior police officer from Wiltshire has criticised plans to close Salisbury police station.
South Wiltshire University Technical College want to take over the Wilton Road site when the building closes in December
Police officers and staff based there would be relocated to Wiltshire Council buildings across the city.
But retired Ch Supt Frank Lockyer said it would mean services scattered around the city with no central focal point.
In his open letter to Wiltshire and Swindon Police and Crime Commissioner (PCC) Angus Macpherson, he says the plan would also leave the force with no headquarters in the south of the county.
In response, Mr Macpherson said he has offered to meet Mr Lockyer, along with a senior police officer, to discuss his concerns and show him around Monkton Park in Chippenham which the force shares with the council.
"The PCC is committed to ensuring that there is a visible, effective police presence in Salisbury and is confident that this will continue to be the case if these proposals are agreed," Mr Macpherson added.
Mr Lockyer said although he accepted the need for change, it had to be for the better.
The former divisional commander of south Wiltshire said although much had changed since he retired in 1985, the fundamentals of policing remained the same.
"You need a conspicuous police presence and the public perception is that people like to look to a building representing authority.
"It makes sense to have everything together - we've got the recently completed law courts close by and the [police station] custody suite's just been refurbished.
"Under the plans police units will be scattered across the city, at the library, Bourne Hill, the community campus, with the response unit located eight miles away at Amesbury.
"What concerns me is the speed at which this is being rushed through," he added.
The proposals are an attempt to help make policing more cost effective by sharing facilities with the council and other partners.
'High-visibility policing'
A public meeting to discuss them is due to take place at Salisbury Guildhall on 17 July.
The meeting will be told the background to the plan by Mr Macpherson and how it ties in with his police and crime plan.
It will also be told of where police services would be based and how high-visibility policing will continue in the city and followed by a question and answer session.
The city's Conservative MP John Glen said he also hoped to attend the meeting.