More funding for speed watch groups in Wiltshire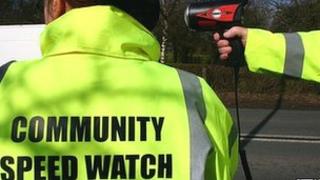 More money is to be invested in Community Speed Watch (CSW) schemes in Wiltshire after police admitted the system "cannot cope with the volume".
CSW volunteer groups use speed guns to monitor traffic speeds and letters are sent to drivers exceeding the limit.
But Wiltshire Police has admitted the scheme has become too big and is letting them down.
Wiltshire Police and Crime Commissioner Angus McPherson said two full-time staff will be appointed to support CSW.
In a letter sent by Wiltshire Police in May, volunteers were asked to "limit the number of checks to two per week" because the scheme had become "too big for the back office software".
Patrick Nixon, from Maiden Bradley Community Speed Watch, said he thought there was a backlog of letters dating back months.
'System not working'
"They [the police] are certainly not backing us up - we realised that several months ago when we caught somebody in the village speeding and she still hasn't received a letter," he said.
"So the communications from the police only confirm that all the work we'd put in - hundreds of man hours - were a complete waste of time."
Mr McPherson said he did not know the extent of the backlog but admitted the "system hasn't worked recently".
"The person who was dealing with it left the organisation some while ago and frankly the eye was taken off the ball," he said.
"So what we've got is a lot of volunteers who are doing good work in the communities and we're not supporting them.
"I've indicated that this is so important, that I will fund it, having obviously checked out all the figures."