Ex RAF Lyneham chapel demolition fought by families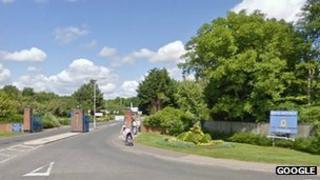 Families of fallen soldiers are fighting a plan to remove the Chapel of Rest from the former RAF Lyneham site.
The military base in Wiltshire was shut last year and the Ministry of Defence plans to demolish the former chapel to allow for the site's redevelopment.
A petition against the plans was signed more than 1,300 times within 48 hours of its creation.
The MoD said the former Chapel of Rest was a temporary structure and could not be moved.
It said the site's change of use meant that it was necessary to remove the former Chapel of Rest, described as "a timber-clad" building "with a limited lifespan".
Sarah O'Connor, from Cambridgeshire, who set up the petition, visited the chapel when her brother was repatriated through RAF Lyneham.
Sgt Bob O'Connor was one of 10 people who died in a Hercules crash in 2005.
'Sacred place'
"To say it's just a building is disrespectful," she said.
"It is actually a place of worship. Non-religious in some aspects or a place of religion for others, because it is a religion of worship for our hero who has died."
She added: "This is about legacy. Keep that chapel of rest, keep that place of sanctity. It has been called a safe haven by bereaved parents, it has been called a sacred place."
Jacqui Janes, from the British Bereaved Mothers group, whose son Jamie was killed in Afghanistan in 2009 and repatriated through RAF Lyneham, said: "The chapel is like the last Army link to our sons, daughters, husbands, whatever the relationship is.
"I can't express how important it is to us."
Last month, the £230m plans to turn the former airbase into a military training centre were submitted to Wiltshire Council.
A statement from the MOD's Defence Infrastructure Organisation said the site would also include "new and improved accommodation" for personnel.
A spokesman said: "As part of these plans, a new repatriation centre was opened at RAF Brize Norton to ensure the relatives of those who have sadly died while bravely serving their country are still able to pay their respects."