Salisbury police station closure delayed by a year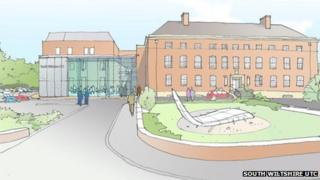 A police station in Salisbury that was threatened with closure is to remain open for another year.
Wiltshire Police had planned to vacate its Wilton Road HQ in December and move into county council buildings.
South Wiltshire University Technical College (UTC) was due to take on the site - with a September 2014 opening.
But Ch Cons Patrick Geenty said he was not satisfied he could continue to provide the level of service that the public currently receives.
Mr Geenty said he had taken the "difficult decision" to delay the move.
'Ideal site'
"Our main priority is to ensure that people continue to feel safe and that our policing services remain visible and accessible.
"I am confident that the [eventual] move from Wilton Road Police Station won't change our ability to respond to incidents and it won't reduce the numbers of policing resources we have working in Salisbury.
"Our commitment to the people of Salisbury will remain the same," he added.
A college spokesman said although it was disappointed at the delay it remained committed to opening at the Wilton Road site in 2015.
"We understand that young people who were hoping to join the UTC in 2014 will be disappointed and will work with them and their parents to ensure that their long-term ambitions can be supported," he said.
The UTC, specialising in science and engineering, will cater for 14 to 18-year-olds, teaching vocational courses alongside mainstream academic subjects.
The city's Conservative MP John Glen said it was "unfortunate" the timescale for its opening had been delayed but added he accepted the chief constable's decision.
"I am delighted to hear... the police will be given the time they need to establish and align future policing facilities to our community's needs," Mr Glenn added.
Former Ch Supt Frank Lockyer said he welcomed the news that time was now going to be being taken to consider the move rather than "rushing it through".
Mr Lockyer, who was divisional commander of south Wiltshire until he retired in 1985, had been critical of the original timetable and had written an open letter to Angus Macpherson, Wiltshire and Swindon Police and Crime Commissioner, detailing his concerns.
"I'm greatly relieved that common sense has taken over and the force now has the time to plan the move properly," he said.