Balfour Beatty's £150m Wiltshire Council contract scrutinised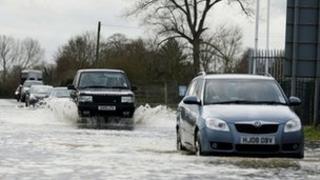 A £150m contract to maintain Wiltshire's roads and streets is to be looked at by a council scrutiny committee.
The council contracted Balfour Beatty Living Places (BBLP) in June, to deal with services such as street lighting.
However, following complaints about BBLP's standard of work, its performance is to be examined.
Balfour Beatty said it had been in a transition period and it was "committed to delivering a high quality service".
The five year contract, which also includes dealing with winter weather, drainage and bridges, had been undertaken by four separate organisations.
But, the council said the contractor's delivery of some of its services has not been "as effective as had been anticipated".
'Deliberately bid low'
"The talk on the ground is that BBLP deliberately bid low in order to secure the contract," said independent councillor Jeff Osbourn.
"But, when they have the contract they should maintain a certain quality."
And independent councillor, Terry Chivers said it was not "up to the council" if BBLP had put a price in that was "far too low".
A spokesman for BBLP did not comment on the claims the original bid had been deliberately low, but stated the firm had been "working closely with Wiltshire Council" since it took over the contract.
"We understand the frustration felt by some members of the public during this initial transition period," he said.
"But we are committed to fulfilling all our obligations on this contract by providing a service, delivered locally, that meets the standards expected by the council and people of Wiltshire."