Jack Hiscock jailed for killing best friend Jack Savage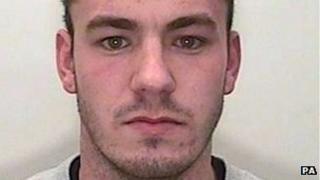 A man who crashed a car into a lorry while drink-driving, killing his best friend, has been jailed for 28 months.
Jack Hiscock, 24, from Swindon, admitted causing death by careless driving over the crash on the A419 at Commonhead on 11 May which killed passenger Jack Savage.
The family of Mr Savage, 20, have stood by Hiscock saying their son would not have wanted his best friend to suffer.
Hiscock was also given a three-year driving ban at Swindon Crown Court.
'Living with guilt'
Mr Savage's father Steve said: "Going to prison, whilst it serves a purpose to the public, it serves no purpose for him."
Mother Tanya Savage said the family remembered something their son had said before the crash.
She said Jack, from Wanborough, had known someone who had been driving a car which crashed into a tree and killed the passenger.
She said her son had "felt sorry for the driver having to live with the guilt".
Speaking after the case, PC Lucy Fair from Wiltshire Police said: "Jack Savage and Jack Hiscock were best friends and Hiscock will have to live knowing that his actions on that day in May resulted in the death of his friend.
"This case highlights the importance of driving with due care and attention at all times of the night and day. A driving error made in a split second can have fatal consequences."