Warminster care home told update end-of-life policy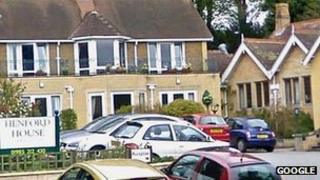 A nursing home has been warned to update its "dying policy" after failing to tell a resident's only regular visitor that she had died.
Mary Bromhead, 93, died at Warminster's Henford House Care Home in Wiltshire, but her niece-in-law Susan Walter, only found out six days later.
A Wiltshire Council inquiry concluded it was "unreasonable" she was not told.
Home owner Barchester Healthcare, said it was a "complex issue" because Mrs Walter was not next-of-kin.
'Burst into tears'
Mrs Walter said she "couldn't give her support at the end or say goodbye", when she died in November last year.
She had known Mrs Bromhead for more than 30-years and made "assurances" to her aunt-in-law she "would be there" for her.
And, she claims, she told staff at the nursing home on more than one occasion to tell her if her relative's health deteriorated.
"I went in to the care home and the head nurse sat down with me and she said 'You do know that Mary is dead don't you?' - just like that," she said.
"Well I burst into tears. I couldn't say goodbye to Mary and I couldn't give her the support she needed at the end."
Belongings 'treated insensitively'
Following her complaints, Wiltshire Council investigated and found that although Mrs Bromhead's "known wishes" had been followed it was "unreasonable" that Mrs Walter as the "only regular visitor" had not been informed.
It also found the home's "treatment" of Mrs Bromham's belongings after her death - which Mrs Walter's claims were in black bags - had been "insensitive".
It was recommended Henford House update its end of life care plans and review its procedure for "gathering up residents' property" after their death.
A spokesperson for Barchester Healthcare said, they could not comment on the council's final report as they had not received it.
"The draft report contained a number of recommendations, the majority of which are already standard practice at Henford House," they said.
"This situation was complex as it did not involve a next of kin relative and we did make the correct people aware but sadly this was not passed along to Mrs Walter."