Hillcote respite centre closure plans put on hold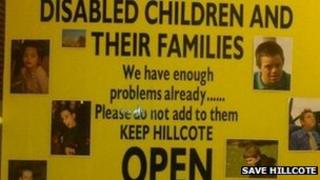 Plans to close a respite centre for families of severely disabled children in Wiltshire have been put on hold.
The Hillcote in Salisbury had been earmarked for closure next April after Wiltshire Council and the NHS said it was "not cost effective".
Campaigner Dr Angela Scott said the service was "absolutely essential for parents" and should stay in the city.
The Clinical Commissioning Group said it would consider "all available options" at a meeting in January.
Complex needs
A campaign group to keep Hillcote open was set up in July after parents were told of the proposal to close it.
Under the plans children would be moved to a centre in Devizes, some 25 miles (40km) away.
The council said earlier that only eight children used the unit and savings could be spent on "improving more home-based foster care".
Dr Scott from "Save Hillcote" said the children who used the centre had very complex needs.
She said: "These children are very disabled and the parents obviously are very tired looking after them and they need respite care.
"What is being proposed now is that the home is closed and the children sent to Devizes - which is too far away.
"These children may be having epileptic fits or be carsick. The whole thing about Hillcote is that the child is local to their family and their local hospital."
She added their petition to keep it open now had almost 6,000 signatures.
Wiltshire Clinical Commissioning Group said it had organised a meeting in January to "consider the best way of providing overnight short breaks for children and young people in Wiltshire".