Swindon Skips fire still alight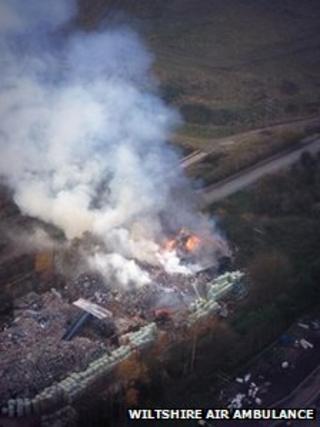 A fire that started overnight on an industrial estate in Swindon is still alight and large parts of the town remain affected by smoke.
Firefighters were called at about 20:50 GMT to the blaze at Swindon Skips on the Cheney Manor Industrial Estate, involving 750 tonnes of wood and waste.
Wiltshire Fire and Rescue Service said the fire was under control but extra crews had attended during the morning.
The fire service said no-one had been injured.
Dave Geddes, from the fire service, said: "We've got limited access in and out of the site.
"To move all that wood out of the way so we can get to the fire is quite difficult and challenging.
"We've also got the railway line which is along the outside edge of the yard as well, which again is causing us further issues."
The fire service said it was working together with other agencies including the police, ambulance, council and Environment Agency.
It said South Western Ambulance Service had remained at the scene because of the number of firefighters involved.
The fire service added that the "significant smoke plume" was being "monitored and assessed" by Public Health England and people living in the vicinity were being advised "to keep windows and doors shut as a precaution".
The nearby household waste recycling centre will be closed for the day as "it cannot be accessed safely".
Supt Gavin Williams from Wiltshire Police said: "This is clearly a very serious incident but it is one which is under tight control by Wiltshire Fire and Rescue Service and is being constantly monitored by all the relevant agencies."