Wiltshire solar farm at former RAF Wroughton site approved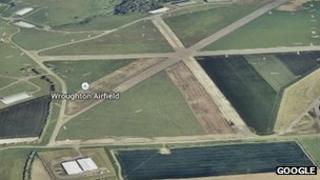 One of the biggest solar farms in the UK is to be built in Wiltshire at the site of a former airfield.
More than 150,000 panels will be installed on half the old RAF Wroughton site near Swindon, taking up 170 acres (67 hectares).
The government now has 21 days to review the Science Museum and Swindon Commercial Services' joint plan.
The site is owned by the Science Museum Group (SMG) with old hangars used to store some 30,000 objects.
Matt Moore, head of the Wroughton site for the SMG, said: "Solar farms should be sited appropriately and sensitively - this is a great location, it's semi-industrial land, close to a major town.
"It will provide a secure and reliable income to help the Science Museum continue our work conserving the national collections and improving conditions on site."
The project also includes a community benefit fund which could generate around £40,000 a year for local projects in Wroughton.