Shotgun death man had 'emotional decline', inquest hears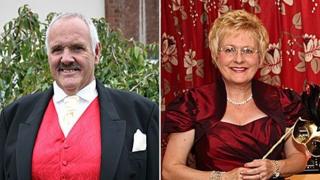 A retired police officer found dead with his ex partner had suffered a sharp decline in his mental health, an inquest has heard.
Bill Dowling, 59, and Vicky Rose, 58, were discovered with gunshot wounds in the porch of his home in Devizes, Wiltshire, on 2 March last year.
The Salisbury inquest heard Mr Dowling, a keen shooter, had struggled to cope with his mother's death in 2011.
Concerns had also been raised about his performance as a senior civil servant.
Salisbury Coroner's Court heard Mr Dowling was one of the "highest paid" senior staff working in the Ministry of Defence (MoD) in Upavon, Wiltshire.
But following the death of his mother and his separation from Mrs Rose, who was an MoD assistant, he was signed off work with insomnia and depression.
'Jekyll and Hyde'
Mrs Rose's mother, Sheila Enyon, told the inquest the couple had been friends since school.
"Victoria told me that she and Bill had finished. I believe he never accepted it. Bill kept pressuring Victoria to get back together with him," she said.
"I felt he had a bit of a Dr Jekyll and Mr Hyde personality. There was something I found unpleasant about him."
The inquest heard Mrs Rose remained close friends with Mr Dowling and frequently accompanied him to the doctor.
But after becoming concerned with his behaviour she had confiscated the keys to his shotgun cabinet, without realising he had access to a second gun cabinet in his property.
On the morning of 2 March, she visited Mr Dowling after he called her claiming he was coughing up blood.
Their bodies were discovered by police at the property on the Moonrakers estate following reports of gunshots and screams.
'Bullied at work'
Members of Mr Dowling and Mrs Rose's families told the inquest he had been under an "increasing" workload.
Jonathon Rose, Mrs Rose's son, said: "He found the job stressful and he told me he would take calls relating to work on his personal mobile at silly times.
"I was led to believe he felt bullied by his brigadier at work."
But Brigadier Piers Hankinson, Mr Dowling's line manager, said when he told him there were "perceptions among some of the Brigade staff" that he was not "fully pulling" his weight he had "agreed entirely".
The inquest continues.