Shotgun death inquest: Ex-partner was shot in head twice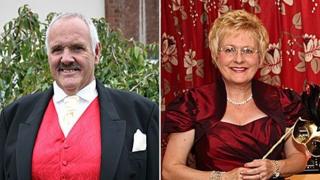 A retired police officer lured his former partner to his house before shooting her twice in the head and then shooting himself, an inquest heard.
Bill Dowling, 59, and Victoria Rose, 58, were discovered with gunshot wounds in the porch of his home in Devizes, Wiltshire, on 2 March last year.
Salisbury Coroner's Court heard neighbours discovered the bodies.
Wiltshire coroner David Ridley ruled Mr Dowling took his own life, with Mrs Rose killed unlawfully.
The inquest was told Mr Dowling called Mrs Rose at her home and asked her to visit as he was coughing up blood.
"Essentially, Victoria was lured to the property that morning on the pretence of bogus medical complaints," said Mr Ridley.
Mr Dowling had also drafted three messages in his mobile phone - two to Mrs Rose and one to another friend.
Each read: "Tablets driving me mad. Can't go on. Please tell boys to forgive me. Tell police I'm in rear garden. Much love xxx"
Firearms licence
"On entering the house, she was confronted by her ex-partner holding a shotgun.
"She turned and was shot twice within the porch of the property, once at close range. Her injuries were not compatible with life," Mr Ridley said.
The inquest heard Mr Dowling then shot himself in the head using the same weapon.
He had recently been diagnosed with depression and anxiety and had been prescribed medication.
"The examination after death revealed that Bill had not been taking the medication prescribed," said Mr Ridley.
The coroner said he intends to put together a report, under Rule 28 of the The Coroners (Investigations) Regulations 2013, urging changes to gun licensing guidelines.
He said authorities should consider a pilot scheme - currently operating in Wiltshire - which was initiated by Mrs Rose's sons Mathew and Jonathan after her death.
In it, doctors surgeries are informed of a patient's application for a firearms licence, or that they currently hold one.
The surgery is asked to provide information about the patient's history and encouraged to contact authorities if conditions that might affect their ability to safely carry guns arises.
If such a concern is raised, firearms and ammunition can be immediately confiscated - potentially "preventing future deaths", the inquest heard.