Stolen mayoral chain to cost nearly £100,000 to replace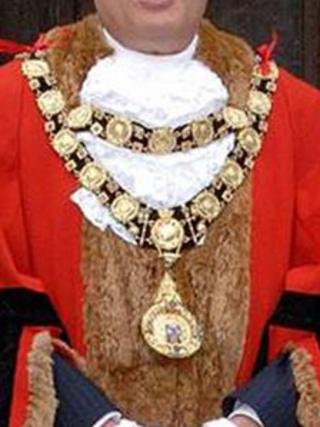 Nearly £100,000 is to be spent on replacing a Wiltshire mayor's stolen gold chains of office.
The 18ct gold chain, imprinted with the town crest and semi-precious stones including sapphires, was taken from the town hall in Marlborough in October.
The town council said with "no firm leads" it had agreed to an insurance payout of £96,550 for a replacement.
Mayor Guy Loosemore said: "It has to be spent on new chains, it's not money that can be spent in any other way."
Made in 1911, the ceremonial chain was first worn by six-time mayor Thomas Free.
Despite being described as of "enormous significance to the people of Marlborough" the council said there was "no requirement" to replace it for a "like-for-like" copy.
"The very sad part of the whole issue is the fact the town has lost a historic artefact which can never be replaced as it was," said Mr Loosemoore.
"But we actually have what is known as the 'Day Chain' which dates from the coronation of Queen Elizabeth II in 1953.
"It's a much smaller chain so I have not been without one."
The new design is expected to be agreed at a full town council meeting on Monday.