Message in a bottle gets reply 12 years on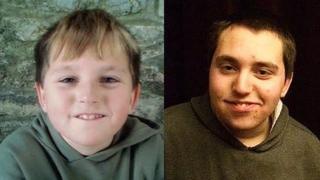 A message in a bottle that was thrown into the sea by a boy more than 12 years ago has been answered by a woman in Dorset.
Lucy Blayney spotted the plastic bottle among rubbish on Chesil Beach following the recent winter storms.
Inside she found a letter from Brandon DuQuenin, 7, from Wiltshire, and wrote to him on coloured paper asking him to "tell his mummy" to send her an email.
She said: "I felt a bit silly when she emailed me back saying he was now 19."
Ms Blaney made the discovery after the storm which caused Chiswell's flood sirens to be sounded for the first time in 30 years.
'Slowest ever message'
"We were walking right on top of the pebble ridge and right in all the rubbish there was the bottle with a message in it," she said.
"We got really excited and sat there in the rain and the wind trying to get this piece of paper out of the bottle - and it said it was from Brandon who was seven."
Although the teenager, who is from Highworth, "can't remember much about it" his father, Robert DuQuenin, said the bottle was thrown into the sea at Ilfracombe during a family holiday.
"It was a plastic Coke bottle with a little plastic bag inside," he said.
"And we put a few stones in the bottom of it and threw it in."
Despite being in the water for more than a decade, the plastic bottle is thought only to have travelled a few hundred miles around the coast.
"They reckon it's the slowest ever message in a bottle," said Teresa DuQuenin, Brandon's mother.
"But I expect there's loads out there that haven't been found."