Wiltshire stray shell: Human error blamed for blunder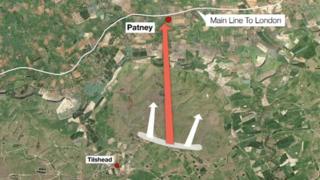 Human error is being blamed after an artillery shell landed in a farmer's field in Wiltshire - some five miles off target.
On Wednesday, a 105mm round was fired from the south of the Salisbury Plain impact area but because the wrong charge was used it went "much further".
The Army said an internal investigation is under way which could result in disciplinary action.
Live firing has now been resumed after it was halted after the incident.
The Army spokesman said additional safety measures have since been put in place for all live firing exercises.
He added the military had apologised to the farmer and the local community.
The shell left a 6ft (1.8m) wide crater when it hit the ground 980 ft (300m) from a railway line at Patney, near Devizes.
Salisbury Plain is the UK military's largest training area, with live firing taking place on average 340 days a year.