Army command unit opens in Upavon, Wiltshire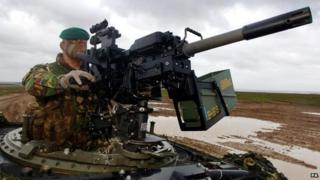 A new Army command unit has officially opened in Wiltshire as part of a major restructure of the British Army.
Force Troops Command in Upavon will oversee and direct some 40,000 personnel in operations support units across the country.
Maj Gen Tim Radford, who will be in charge of the command centre on Salisbury Plain, said it would make the Army more efficient.
The Army's size is being reduced as part of wider defence cuts being made.
Its Army 2020 plan involves cutting the number of personnel from 102,000 to 82,000 by 2020.
Troops influx
At the same time, the number of reservists will double from 15,000 to 30,000.
Meanwhile, a public consultation on Army plans to integrate a huge influx of personnel and their families into the county has ended.
As part of Army 2020, some 4,300 soldiers will be moving to Wiltshire.
This will bring the total number of troops based on Salisbury Plain to about 7,000.
So far the Army has been looking at how to expand its current sites at Tidworth, Bulford, Perham Down and Larkhill to provide extra housing, health facilities and schools.
Concerns so far raised include fears that more houses at Larkhill will block the view of the sunrise at solstice at Stonehenge.