Funeral of Swindon bus crash girl Caitlin Hunt, 9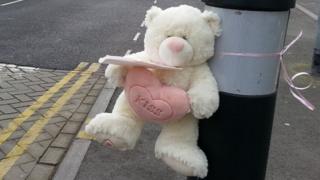 The funeral for a nine-year-old girl who died after being hit by a bus in Swindon, has taken place.
Caitlin Hunt was hit by a Thamesdown bus at Blair Parade in the Moredon area of the town last month.
The Year Four pupil, who attended Rodbourne Cheney Primary School, was treated at the scene, but died later of her injuries.
More than 100 mourners, many wearing her favourite colour, pink, attended the service at St Mary's Church.
Caitlins's pink coffin, covered with purple butterflies, was brought into the church in Rodbourne Cheney as music from her favourite singer Katy Perry was played.
During the service, tributes were paid to Caitlin who was described as being "full of energy".
The Reverend Nick Lines, told the congregation: "Caitlin loved making things, reading, singing, dancing.
"Whatever Caitlin did she made the most of it."
A poem called 'In Memory of our Little Angel' was read by Paul Hope, a friend of the family.
The last word of the poem refers to a 'kiss' and mourners were invited by Mr Hope to "pucker up and blow a big kiss to Caitlin".
Caitlin's coffin was then carried from the church to the strains of the Everly Brothers' All I Have To Do Is Dream.
A private burial was held later at the town's cemetery.