Human bone found near shallow grave of Becky Godden-Edwards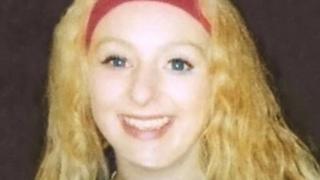 A human bone has been discovered in a field where the body of a murdered girl was found.
The remains of Becky Godden-Edwards, from Swindon, were found in a shallow grave at a farm in Gloucestershire in 2011 by police investigating the death of another young woman.
Wiltshire Police said the discovery was made as part of a reinvestigation into the 21-year-old's murder.
A specialist forensic team is conducting a search at the site.
A spokesman for the force said there may be news of further developments in the case "in the coming weeks".
Ms Godden-Edwards disappeared from her home in Shaw, Swindon, in 2003.
Her remains were unearthed at Baxter's Farm, Eastleach, following the arrest of taxi driver Christopher Halliwell over the disappearance of Sian O'Callaghan, 22.
Officers were led to the body by Halliwell, but he was not prosecuted over her death after a judge ruled detectives had ignored arrest guidelines.
Halliwell was later jailed for life for Ms O'Callaghan's murder.