Local Elections 2014: Is Swindon key to Number 10?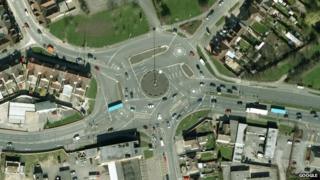 Navigate your way through Swindon's magic roundabout, and, it's said, the road to Downing Street lies open.
That is because the town has long been a barometer for general election success.
Over the past 30 years, its MPs have always been from the same party as the prime minister.
So it is gearing up again to be a big electoral battleground in 2015 - with this year's local vote a dress rehearsal for that.
Chasing hard
The Conservatives run the council, with a majority of just one. With 20 seats being contested this time, that is under threat.
All-out council elections in 2012 saw the Conservatives win 29 seats, Labour 24 and the Liberal Democrats four.
Labour are chasing hard and senior party figures like Ed Miliband and Ed Balls have been campaigning in Swindon. Privately though, they are playing down expectations.
Two years ago all the talk was of economic gloom and coalition cuts, but they failed to overhaul the Tories. This year they will be happy just to make gains.
Ukip ambitions
The Lib Dems' ambitions, like their council presence, are modest. Swindon has never been strong for them, and they are not fielding a full set of candidates.
By contrast, Ukip do have a full list of candidates and many expect them to have an impact. Euro elections the same day will boost their vote; it may not be enough to win them seats, but they could take votes from the Conservatives.
So the headlines on Friday, 23 May could talk of Swindon turning from blue to the grey of no overall control.
But it may make little difference to who runs the council. The Tories are confident that Lib Dem co-operation will mean they stay in charge.