MoD rethinks new Salisbury Plain military homes plan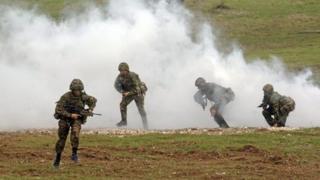 The Ministry of Defence (MoD) has changed its plans for new homes on Salisbury Plain, needed to cope with an influx of soldiers and their families.
About 4,000 soldiers will be moving to Salisbury Plain as they are being gradually withdrawn from Germany.
Tidworth will now have no extra homes built but Ludgershall will see an increase from 200 to 300.
Homes will also be built at Larkhill and Bulford. The plans are subject to approval from Wiltshire Council.
Mark Limbrick, from the Defence Infrastructure Organisation, said the Tidworth plans were shelved due to the environmental impact the development would have.
"There would be issues with bringing in a new road access into those areas," said Mr Limbrick.
"We've decided to move the 100 houses that were allocated there initially to the Corona Barracks site in Ludgershall, which is a brownfield site."
Another public meeting will be held on 28 May and the master plan is due to be handed to Wiltshire Council in July.