Sian O'Callaghan: Murder police conclude pond search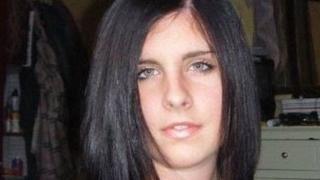 Police have concluded a search of a pond in Wiltshire as part of an investigation into a convicted murderer.
Christopher Halliwell pleaded guilty to killing Sian O'Callaghan but was not tried for a second murder after leading police to Becky Godden's buried body.
The 50-year-old killer might be linked to other missing women, a Sunday newspaper has reported.
Wiltshire Police said the report was "highly speculative".
'Five innocent women'
Last month, a pair of boots belonging to the 22-year-old Swindon office worker were found floating in a pond near Marlborough.
Also found in the pond, which was later drained, was a shotgun.
Nearby searches of the woodland revealed up to 60 pieces of women's clothing, buried under two inches of soil, and a chunky knit cardigan.
The police later confirmed that the clothing, including the cardigan did not belong to Miss O'Callaghan.
The Sunday Express quotes a police source who said the "buried cache of clothing is unlikely to be fly-tipping" and the "place might be linked to the murder of five innocent women or more".
But a Wiltshire police spokesman said: "[We] have made no links to the missing women mentioned or any other cases at this stage.
"Speculation such as this is unhelpful and can be potentially distressing for families who may have lost their loved ones."
Arrest error
Miss O'Callaghan died from a single stab wound to the head.
Halliwell pleaded guilty to murdering Miss O'Callaghan and was jailed for 25 years in October 2012.
Her body was found after an extensive police search at the Uffington White Horse in Oxfordshire.
Following the taxi driver's arrest, he also led detectives to the body of Becky Godden in Gloucestershire.
But Halliwell was not prosecuted over that death after a judge ruled detectives had ignored arrest guidelines.