Investigation after oil leaks in River Avon in Wiltshire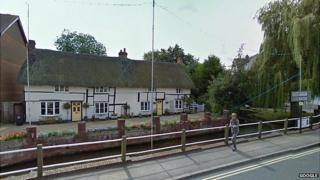 An investigation is under way to find the source of an oil leak into the River Avon in Pewsey in Wiltshire.
Booms have been placed across the river by the Environment Agency to try to contain and recover some of the oil.
The agency believes it may be coming from a domestic heating oil tank in the village and has urged people to check for any leaks.
John Carter, head of public protection at Wiltshire Council, said the odour was unpleasant but was not harmful.
An "acrid smell" was first noticed in the village more than a week ago, but despite an appeal for residents to check their tanks it is still unclear where the oil has originated from.
"We're working very closely with both the Environment Agency and the highways team to try and get to the source of this," said Mr Carter.
"We've checked levels of smell and we're satisfied there isn't any imminent affect on health to the people in Pewsey.
"We've also put absorbent materials in the manholes affected and on Friday we're hoping to get equipment in which will take the oil out of the drainage system before it moves downstream and affects more residents."