Dogs maul seven alpacas at petting zoo in Grittenham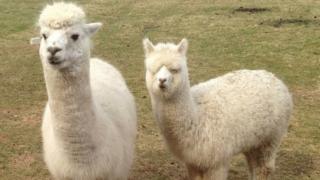 A petting zoo in Wiltshire has said it is at risk of closing down after two dogs killed three alpacas and mauled four others.
Farmtastic in Grittenham also sells alpacas but said the surviving ones may never breed again due to the injuries.
Owner Dave Taylor said: "It may well ruin us. If we've got no babies to bring up to sell, we'll have no income from them, apart from the fleeces."
The two Malamute dogs were put down and police are investigating the attack.
Mr Taylor added: "They [the alpacas] have been stitched up by a vet and I have been told they will never breed again, they're distressed."
The attack happened on Sunday and a neighbouring land owner has been questioned by police about the matter.