Free parking in Wiltshire 'not a silver bullet' for High Street traders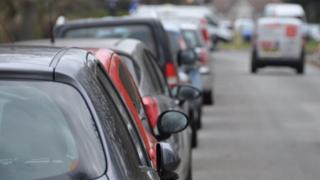 Business leaders in Wiltshire say one-hour free parking in all car parks in the county would not be a "silver bullet" to help High Street traders.
It follows a petition started by Lib Dem Chippenham MP Duncan Hames who believes it could help boost trade.
But the chambers of commerce believe it is not so much the cost of parking but the way it has to be paid.
Wiltshire Council, which will run a parking consultation next month, said it was too early to comment.
'Big mistake'
The Conservative-led administration had increased parking charges in April 2011 in order to protect subsidised bus services.
Mr Hames said he hoped the review of the council's parking policy would help traders who have been finding conditions hard on the High Street.
"I'm delighted my Lib Dem colleagues on the council have secured this parking review.
"We now have an opportunity to make sure the council have no doubt what it is that local people want them to do about their parking policy," he said.
Rob Perks, who is chief executive of Wessex Chambers of Commerce, said free parking would not be a "silver bullet".
"I think it would be a big mistake to think if we get the first hour parking free all the problems of the High Street would be solved," he said.
"It's not so much the amount of money, it's the inconvenience... you've got to pay in advance, you are never quite sure how long you might want to stay.
"You pay for an hour and you get stressed running back to a car in case you get a ticket.
"It would be much better if you could pay on exit - that's the sort of thing we were campaigning for more than perhaps the free aspect."