Swindon Great Western Way: Delays 'likely' as junctions updated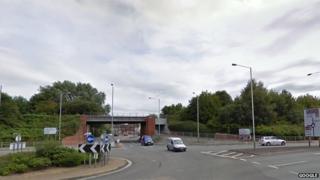 Motorists in Swindon are being warned of delays and disruption for more than a year as a number of junctions on Great Western Way are improved.
The plans aim to reduce traffic jams in the future and reduce the risk of flooding to homes and businesses along the route.
In the first phase, four roundabouts based around the Bruce Street bridges will be merged into one large one.
More information about the £13m scheme can be found on the council's website.
"Swindon has been growing over the last 20 to 30 years and the roads haven't necessarily kept up at the same speed," said councillor Dale Heenan, who is responsible for highways.
"We need to do these works to tackle the flooding issues around this [Bruce Street bridges] junction... and to make sure we have the capacity to move cars around the town.
"The sheer amount of work that is necessary along Great Western Way means there has to be programme of activity over 12 months... [but] we'll do one junction at a time to minimise inconvenience."
Great Western Way cuts across the town from the Bruce Street Bridges in the west to the Transfer Bridges in the east and is used by more than 19,000 people a day.