Little Angels Nursery in Calne closes permanently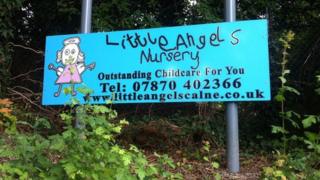 A children's nursery in Wiltshire, under investigation by police, has resigned its registration and closed.
In August Ofsted officials suspended the registration of Little Angels Nursery in Calne until 25 September after a 37-year-old woman was arrested.
Wiltshire Police said the woman, who has not been charged, remains on bail.
The exact nature of the investigation has not been revealed but Ofsted said it will continue to help the police and council.
In August, an Ofsted notice on the nursery's gates said it was investigating "our belief that a child may be exposed to a risk of harm".
In a statement, owner Rachel Cartmell said she and the nursery staff were "fully co-operating with the police" during the investigation.
The nursery, set up in 2009, was due to remain closed while the police investigation continued.
But on Wednesday afternoon Ofsted said the business had resigned its registration and was now closed.
Ms Cartmell, who was not the woman arrested, said a liquidator had been appointed.
The nursery was rated "good" at the time of its last inspection.
Seventy-eight children attend the nursery whose nine staff working with them had all "undergone appropriate vetting to check their suitability to work with children", according to May's Ofsted inspection report.
It said staff promoted "children's personal, social and emotional development effectively" and that children behaved well.
Ofsted said the owner/manager had implemented "robust recruitment processes" which ensured staff were able to show "strong knowledge and awareness of the policies and procedures for safeguarding children's welfare and are well trained to deal with safeguarding concerns".