Swindon Town former manager Sam Allen grave restored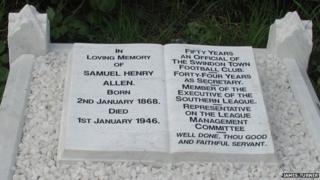 The grave of Swindon Town FC's first manager, Sam Allen, has been restored to its former glory.
A campaign was launched earlier this year to renovate the grave at Radnor Street Cemetery after it became derelict and overgrown.
Sam Allen joined the club's committee in 1895, was manager from 1902 to 1933, and secretary until he died in 1946.
Campaigners restored it in time for the 100th anniversary of Swindon winning the Southern League in 1914.
A grave rededication ceremony at the site and a memorial service will now be held for Sam Allen at St Saviours Church, Swindon, on 9 October.
Mr Allen is in the top 10 of the longest-serving managers in the history of English football.
Club historian Dick Mattick said the grave looked "pristine and almost brand new".
He said more money than the £2,500 needed had been raised through donations and sponsorship.
"The surplus will be used to fund a memorial plaque to go over the players' tunnel and will be engraved with all names of the players, and others associated with the club, who were killed in the two world wars.
"We aim to make this the centrepiece of the club's Remembrance Day ceremony," Mr Mattick added.